Youngstown Waterproof Winter Plus Gloves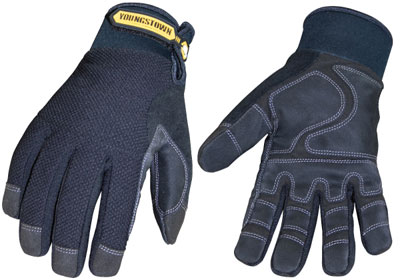 DESCRIPTION:
Youngstown's Waterproof Winter Plus is the ultimate winter work glove. 100% Waterproof and Windproof, this glove is designed to keep your hands warm and dry without sacrificing dexterity. Triple layer technology of micro-fleece liner, waterproof membrane, and form-fit outer shell. Durable, Dexterous, Comfortable and Warm - if you work or live in cold, wet winters you need this glove.
FEATURES:
• Waterproof, Windproof and Breathable Inner Membrane Keeps Hands Warm and Dry
• Durable and Form-Fit Outer Shell Maintains Dexterity
• Flexible Clarino™ Non-Slip Palm Reinforcement
• Grips in Wet and Dry Conditions and Increases Durability
• Internal Knuckle Protection on Top of Hand
• Double-Stitched Bonded Nylon Thread for Extended Life
• Terry Cloth Thumb for Wiping Sweat and Debris (or Nose)
• Machine Wash/ Line Dry
SIZES:
• S, M, L, XL, 2XL, 3XL
SIZING INFO:
Circumference of Palm (Excluding Thumb):
• Small = 8.0" to 8.5"
• Medium = 8.5" to 9.0"
• Large = 9.0" to 9.5"
• Extra Large = 9.5" to 10.0"
• Double Extra Large = 10.0" to 10.5"
• Triple Extra Large = 10.5" to 11.0"
*WHEN SELECTING A MULTI-LINED GLOVE (CUT-RESISTANT STYLE OR WINTER WATERPOOF STYLE) PLEASE SELECT ONE SIZE UP/LARGER TO ENSURE A COMFORTABLE FIT.
VIEW IN OUR STORE