Tap Magic with EP-XTRA Cutting Fluid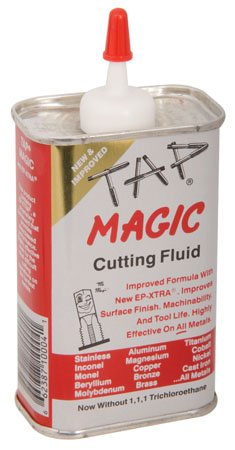 DESCRIPTION:
Tap Magic with EP-Xtra® is an ozone-friendly formula that provides outstanding performance on all cuts and all metals - even hard metals such as stainless steel. The proprietary additive, EP-Xtra, provides a synergistic boost in performance.
APPLICATIONS:
Highly effective for drilling, tapping, milling - all cuts on all metals. This is the fluid to have when you don't know what cut or what metal tomorrow may bring.
SIZES:
• 4 Oz - Can W/Spout
• 12 oz. - Aerosol Can
• 16 oz. - Can W/Spout
• 1 gal. - Gallon Can
• 5 gal. - 5-Gallon Can
MSDS (.pdf)
MSDS Aerosol (.pdf)
CALL (800) 227-8479 FOR PRICING