River City Classic 3-Piece Rainsuit - Jacket / Hood / Bib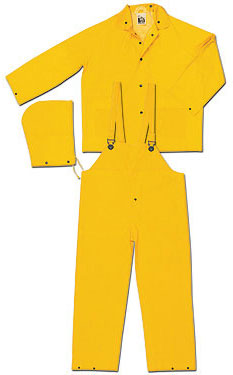 DESCRIPTION:
Complete 3 piece suit. Jacket (model number 200J) with detachable hood and bib pants (model number 200BP). The Classic Series Material is the most popular in the Industry. It combines the strength and waterproof qualities of PVC with the durability of a polyester backing. Come back to the Classics for your protective wear needs!
FEATURES:
• Most popular garment in the industry
• Excellent value
• Versatile, good for outdoor and indoor use
• .35 mm PVC on polyester broadloom fabric
USES:
• Perfect for construction, utilities, airlines, municipalities and more.
COLORS:
• Yellow
SIZES:
• S, M, L, XL, 2XL, 3XL, 4XL
SIZING INFO:
• Product Spec Sheet (.pdf)
CALL (800) 227-8479 FOR PRICING