Igloo 10 Gallon Heavy Duty Industrial Grade Water Cooler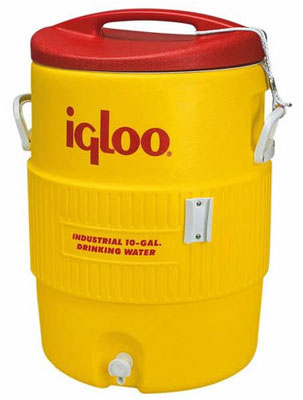 DESCRIPTION:
The oasis of hydration!
Having the best cold retention in the water cooler industry, this Igloo cooler keeps water cold longer and is ideal for hydrating the entire crew on the jobsite or in the shop.
FEATURES:
• Cooler maintains ice for 3 days at 90°F!
• HDPE hide won't chip, peel, buckle, or rust
• Ultratherm® insulation for maximum cold retention
• UV stabilizers prevent fading, cracking in all exposures
• White FDA Grade liner is easy to clean and resists stains and odors
• Wide mouth pressure fit lid for easy filling
• High-visibility Safety Yellow color
• "Drinking Water" imprint meets OSHA labeling requirements for water used on jobsites
• Pressure-fit lid won't trap dirt/mold
• Keeper cord affixes lid to cooler for cleanliness and loss prevention
• Recessed and angled drip-resistant spigot for easy dispensing
• Reinforced handles for strength and product longevity
• Integrated handle-lid can be locked to side handles for added security and assurance of cleanliness
• Front push-button spigot is easy to access when wearing gloves on a worksite
CAPACITY:
• 40 Quarts (38 Liters)
SPECIFICATIONS:
• Item Weight (lb) 8.5
• Item Weight (kg) 3.86
• Exterior Dimensions (in - L x W x H) 17.25 x 15.81 x 23.25
• Exterior Dimensions (cm - L x W x H) 43.82 x 40.16 x 59.06
• Interior Dimensions (in - Top L x W x H) 19.13 x 19.13 x 19.13
• Internal Dimensions Bottom (in - L x W x H) 12.5 x 12.5 x 19.13
CARE:
Wipe interior and exterior surfaces clean before storing and between uses. To prevent stains and odors, empty cooler of contents after use. Light dirt or stains can be cleaned with water or mild detergent. Tougher stains may be cleaned with diluted solution of baking soda and water. Ensure all cleaning agents are thoroughly rinsed and the cooler is dry before storage. If cooler has a pour spout, store it with spout open to allow moisture to escape. For set-in stains or odors, use gloves to wipe inside of cooler with bleach, rinse and let dry thoroughly.
WARRANTY:
This Igloo product is warranted to be free from defects in material or workmanship under normal use and service for 1 year from the date of original purchase.
USES:
Sports & Events, Golf & Turf, Jobsite
VIEW IN OUR STORE