General Precision Micrometer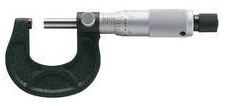 DESCRIPTION:
The Precision Micrometer is a great choice for taking professional measurements with assured accuracy. Built with a forged steel frame to eliminate flexing, the Precision Micrometer is accurate to .0003" and features hardened and ground measuring surfaces. The satin chrome thimble and barrel are etched with easy to read black graduations. There is also a friction stop to expedite the taking of repetitive measurements.
FEATURES:
• Professional quality micrometer with inch graduations.
• Reads to .001"; Accurate to .0003".
• Range is 0" to 1".
• Forged steel frame eliminates flexing for greater accuracy.
• Hardened and precision ground measuring surfaces.
• Satin chrome barrel and thimble with black etched graduations.
• Positive spindle lock holds measurement.
• Friction stop for taking repetitive measurements.
• Spanner wrench for making zero adjustments.
VIEW IN OUR STORE